About TJ Glidden Construction
Designing, building and renovating homes since 1974
We are dedicated to making homeowners' dreams a reality by building high-end homes that can be passed down for generations. We take pride not only in our exceptional craftsmanship, but also our core values of coordination, continuity, and communication, which are the cornerstones of our projects from start to finish.
TJ Glidden Construction specializes in large-scale custom home additions and remodels, though we don't shy away from new construction. We transform additions and remodels into homes that look brand new from the inside-out, using our creativity and familiarity with state-of-the-art processes and innovative technologies. In our decades of experience in the Tahoe Basin, we have developed the skills and creative capacity necessary to complete exceedingly difficult and complex projects that are unique to this region.
Our construction projects can be found in communities around Lake Tahoe, including Tahoe City, Homewood, Incline Village, Meeks Bay, Rubicon Bay, Tahoma, Carnelian Bay, Truckee, Norden, Northstar, Squaw Valley, Alpine Meadows, and Glenbrook. We have also worked on high-end projects in the San Francisco Bay Area and Napa Valley. We have nurtured relationships with a select group of architects, engineers, and interior designers from the Tahoe Basin to the Bay Area. We steadfastly use the highest-quality skilled craftsmen and subcontractors.
TJ Glidden Construction looks forward to being your go-to design-build general contractor and partner in construction as we create a home your family will enjoy for generations to come.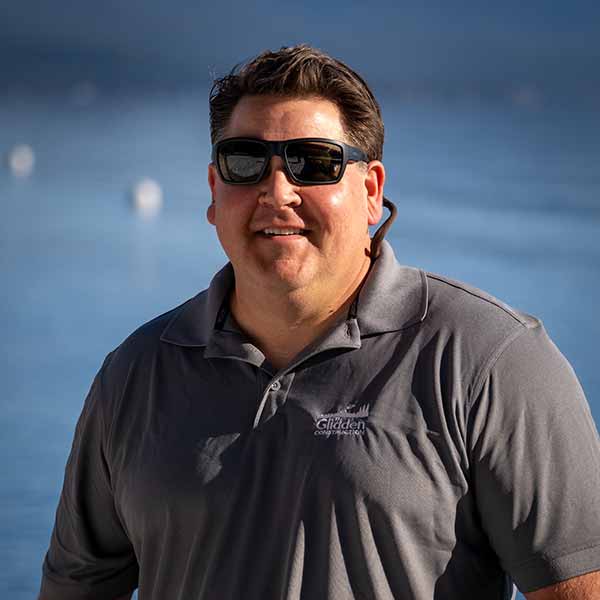 About Trevor Glidden
President and General Manager of Field Operations Trevor Glidden has five decades of hands-on experience in the custom home building and construction management industry. He is a licensed contractor in both California and Nevada, with a B.S. in Construction Management from California Polytechnic State University, San Luis Obispo.
CONSTRUCTION
Large Scale Renovations
Additions & Remodeling
New Home Construction
Difficult Structural Projects
Changing Floor Elevations
Heavy Beam Trusses
Large Snow Load Decks
Retaining Walls
Design on Sloped Lots
Large Scribbed Rock Work
Pond Building
Reclaimed Wood Projects
High Efficiency Fixtures
And More
MANAGEMENT
CEO of TJ Glidden since 2001
Owner Liaison
Project Management
Cost Controls and Project Accounting
Qualifications
Licensed General Contractor in California and Nevada
Five decades of hands-on construction experience
B.S. in Construction Management from California Polytechnic State University, San Luis Obisbo
Specialty Degree/Contractor licenses in California (CSL #799507) and Nevada (NSL #54288A).
Positions
TJ Glidden Construction: President & Project Manager of Field Operations
*Additional information and references available upon request.